How long does the delivery take?
All products that are in stock will be shipped within one working day of receipt of the order at the latest. Once your product is on the way, you will receive a tracking link.
The total delivery time is usually 2-4 working days, unless otherwise specified.
See our shipping page for more information.
I would like to return/exchange an item.
You can return your BandWerk product free of charge within 30 days of receiving the delivery. It is not necessary to provide a reason for the return, but we appreciate constructive feedback.
Additionally, you can exchange your product for another one, for example, if you wish to have a different wristband size or color.
The best way to inform us about your return request is via email at service@bandwerk.com or by phone at +1 888-683-4938.
How can I track my shipment?
Once your order is on its way, you will receive an email from us with a tracking link for shipment tracking.
My shipment has not arrived!
Sometimes, things can go wrong in the mail, or your order may not have been processed correctly due to a technical or human error.
In any case, we are here for you! You can reach us via email at service@bandwerk.com or by phone at +1 888-683-4938.
Are there customs duties in other EU countries?
Shipping to EU countries is done on a "Delivery Duty Paid" (DDP) basis, which means there are no customs duties or taxes for the recipient to pay.
How much are the shipping costs?
Shipping within Germany and to many EU countries is free of charge, but we do apply flat-rate shipping fees for certain countries. For detailed information about shipping to your destination country, please visit our Shipping Information page.
What forms of payment do you accept?
BandWerk accepts all major credit cards, PayPal, invoice with Klarna, Sofort payment, as well as the express payment methods Apple Pay, Google Pay, Shop Pay, and PayPal Express.
Why was my old account deleted?
Your account still exists! BandWerk migrated to a new shop system in December 2020, and all existing accounts were transferred to the new system. However, for security reasons, passwords were not transferred, which is why unrecovered accounts are currently inactive.
Reactivating your account is easy: Simply use the Password Reset function.
Afterward, you will have access to your previous orders and saved address information as usual.
How are BandWerk products packaged?
All BandWerk products are wrapped in a high-quality wooden box and packaged as a gift with fine banana paper.
Whether it's for yourself or as a gift for someone else, BandWerk products leave a representative impression for any occasion.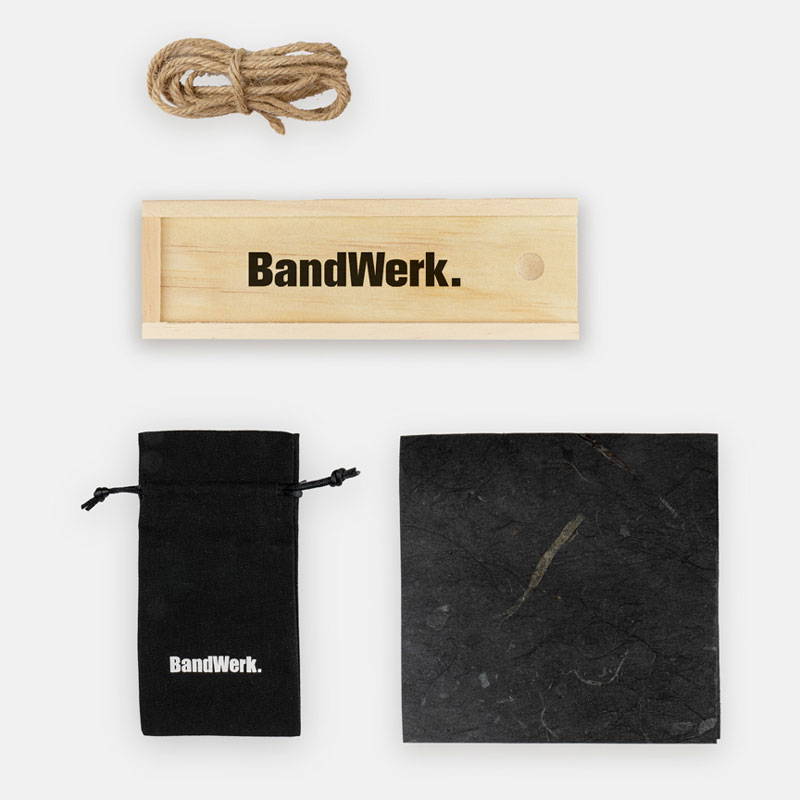 How do I properly care for my leather product?
To ensure that you enjoy your leather product for a long time, you should follow some simple tips and guidelines.
For information on caring for different types of leather, please visit our page on Materials & Care.
---
Where are BandWerk watch bands made?
BandWerk Apple Watch bands are produced in a complex process by passionate artisans in Germany.
Are the BandWerk bands compatible with my Apple Watch?
The first generation Apple Watch, as well as the Apple Watch Series 1 – 8, Nike Edition, Apple Watch Hermès, (PRODUCT)RED and Apple Watch Ultra use the same or a compatible adapter mechanism.
Accordingly, all BandWerk straps are compatible with all current versions and generations of the Apple Watch.
With us you will find the matching color adapter and clasp parts for every Apple Watch case, whether aluminum, stainless steel or titanium.
What material/leather are the watch bands made of?
The Apple Watch bands by BandWerk are crafted from exquisite raw materials. Specifically, we often use leather from Italian tanneries, but we also source materials from other trusted sources.
On each product page, we provide information about the origin of the raw materials.
Which watch face do you use in your product images?
The watch face is called "Typograph." For an accurate reproduction, please use the color black, the watch face variant "II," the style "Classic," Arabic numerals, and disable all complications.
---
Where are BandWerk iPhone cases made?
The iPhone cases by BandWerk are produced in a specialized workshop located in the Tuscan region of Italy.
Can I use MagSafe accessories with the cases?
Yes! All BandWerk iPhone cases for the iPhone 12, 13 and 14 series have been specifically designed for MagSafe accessories and are compatible with all corresponding accessories.
What leather/material are the iPhone cases made of?
The iPhone cases by BandWerk are crafted from exquisite Italian leather.
---
Where are BandWerk leather accessories made?
Our other leather accessories, such as our AirPods cases and AirTag keychains, are produced with great craftsmanship and care in Germany.
I'm missing a product in your portfolio
Are you looking for an Apple accessory product that we don't currently offer? Contact us!
We appreciate your feedback and will make every effort to fulfill your request as quickly as possible.
Email: service@bandwerk.com | Phone: +1 888-683-4938
You can reach BandWerk customer service daily between 10 AM and 7 PM German time. However, we are often available outside of official business hours as well. You can typically expect a response or callback within an hour.
Email: service@bandwerk.com | Phone: +1 888-683-4938
Feel free to also use our contact form.