To enjoy your leather product for a long time, you should follow our few simple tips and hints. With the right care, your natural product will not only continue to look good for years but also develop a characteristic patina - as a unique witness of time on your wrist.
Leather has been used to make clothing and jewelry for thousands of years. It has proven itself and does not need to be overly guarded or protected. We recommend you avoid spending too much time on leather care, once every six months is enough. When Leather is over-greased, it can damage the material.
---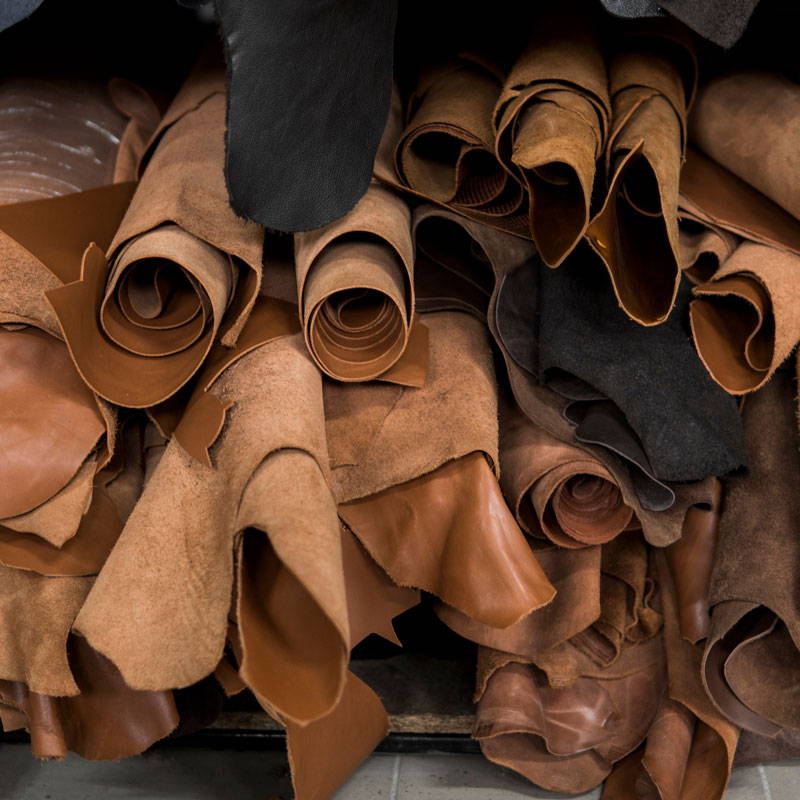 The greatest enemy of good leather is moisture. Make sure that your leather products do not get wet, and it is best to store in rooms with moderate humidity.
If your leather gets damp, dab the surface with a dry cloth and avoid rubbing it. In addition, it is advisable to take off leather straps or exchange them for a waterproof watch bands when exercising. This keeps the inner leather free of sweat and prevents moisture from penetrating the deeper layers. When cleaning your leather product, we recommend a mild leather care product, for example, Collonil Organic Bamboo Lotion.
Alternatively, we suggest Collonil Organic Protect & Care, which also impregnates the leather. Both care products work well with chemical ingredients and are particularly kind to the skin. Please use a soft, undyed cloth to apply.
Most BandWerk leather accessories can be personalized with your initials or a dedication. In particular, avoid our monogram embossing with hot foil (for example, in silver or gold) coming in contact with moist or greasy surfaces.
If the embossing should fade over time, we will be happy to reprint it free of charge. Just get in touch.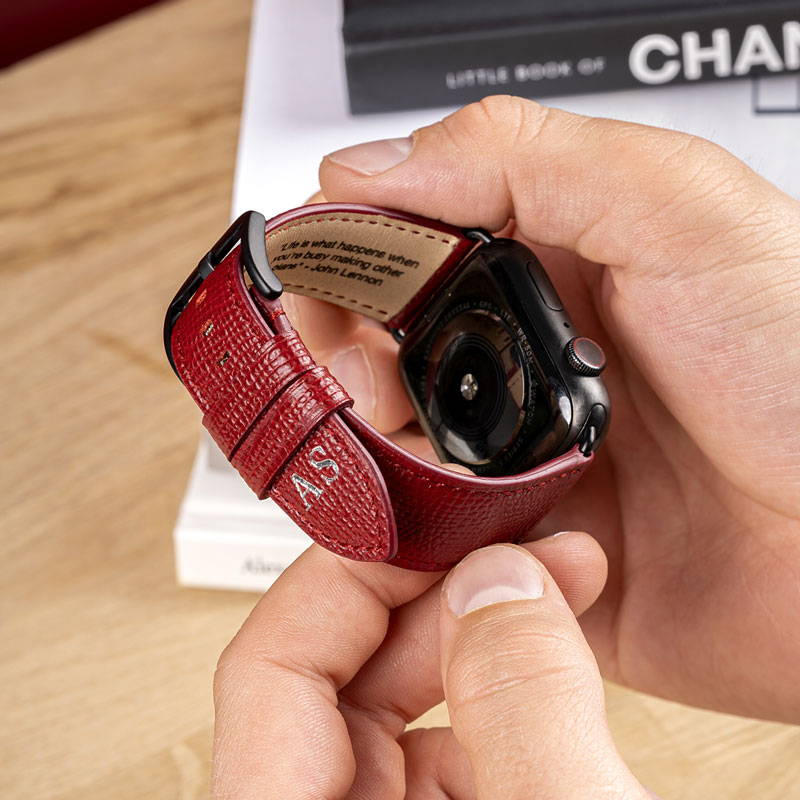 Vegetable tanned leathers
Vegetable tanned leathers
For most of our watch straps, AirPods and iPhone cases, we use vegetable-tanned leather. The durable and robust leather are quite firm at first, but it adapts perfectly to your usage behavior after a few days.
To maintain the characteristic appearance of your leather product over the years, we recommend that you keep them away from oily and damp surfaces. Nevertheless, if it gets wet or stained, carefully dab the relevant area with a soft cloth.
The original Shell Cordovan leather from the famous Horween tannery in Chicago is one of the most exclusive luxury goods available in the leather market.
The unique tanning process creates a dense, fine-fiber structure with a mirror-like surface.
There are special leather care products for Cordovan, such as the Saphir Medaille d'Or Cordovan. This can be applied occasionally with a soft brush and allowing the wax to soak in for a few minutes. After which you can polish the surface with a soft cotton cloth.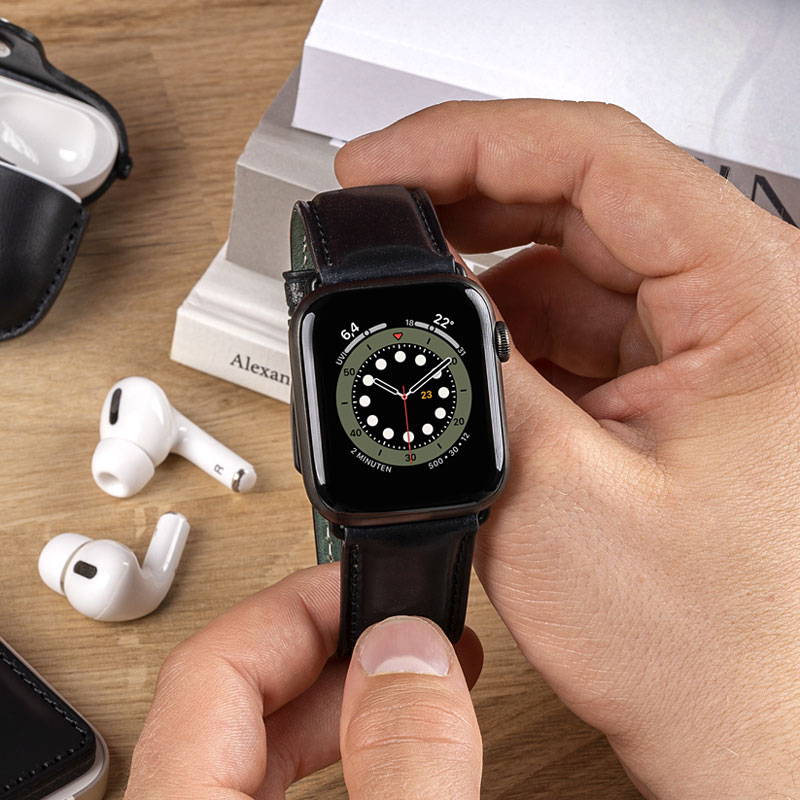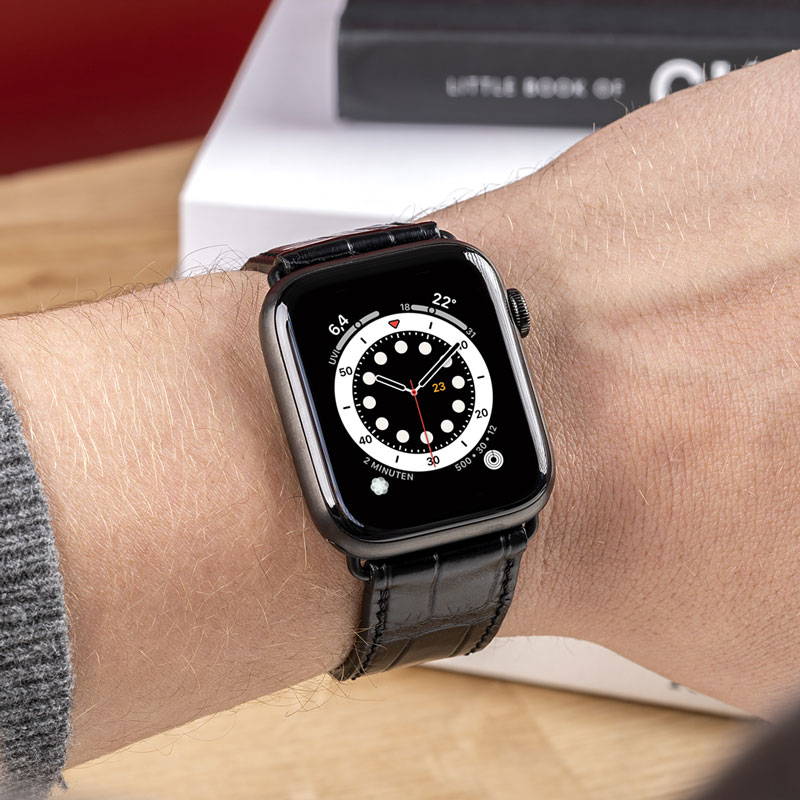 Alligator und Tegu Leather
Alligator und Tegu Leather
Due to its unique material, the elegant and luxurious appearance of exotic types of leather is matchless.
The care of Tegu and Alligator leather is relatively straightforward. We recommend a slightly damp, soft cotton cloth for cleaning. Conventional leather cleaners and care products should be avoided as not to impair the scales' structure.